Traditional Japanese Lacquering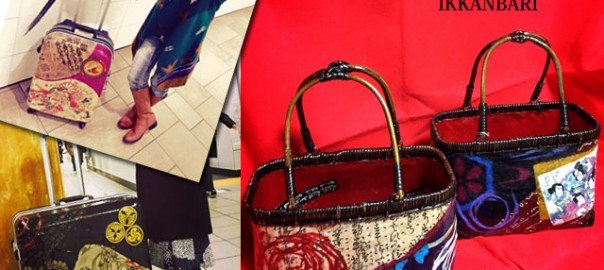 Saturday, May 23 (2015) from 11:00 AM to 2:00 PM
Just a 3 minute walk from Hikifune Station on Tobu Line in Sumida-ku, Tokyo.
---
PRICE PER SEAT
¥15,000.00
---
COMPLETE THIS FORM TO BOOK YOUR LESSON
Bookings are closed for this event.
ABOUT THE CLASS
"Ikkanbari" (一閑張り) is the traditional Japanese art of taking what is old and worn-out, and making it new and beautiful again.
In this lesson, we will be taking 15cm by 25cm baskets and learning how to make them into unique, beautiful — and extremely sturdy — new containers and handbags.
And learn by listening and speaking completely in Japanese!
The technique involves pasting layers of Japanese paper (和紙, "washi") onto the basket in a process called "Shitabari" (下張り), and then adding decorative designs, colours and characters with your own unique design in a process called Uwabari (上張り).
Finally, the unique persimmon varnish (柿渋, "Kakishibu") that is the hallmark of "Ikkanbari" is applied. Once this varnish dries, the old but new again container or handbag is complete!
This class takes about four hours. Minimum TWO students, maximum TEN. Pleae book your class at least THREE WEEKS in advance.
Come on out and create something beautiful while improving your Japanese!
Misato-sensei is an aficionado of "Ikkanbari" (一閑張り), the traditional Japanese art of artistically repairing worn out items with a beautiful persimmon varnish.
Ikkanbari not only results in an object stronger than the original, it also makes ordinary, worn-out objects beautiful and decorative.
As a useful winter downtime diversion at farmhouses, repaired Ikkanbari containers have been used store things like green tea and clothing for centuries.
These days, the beauty of these objects has made them a popular item in Japanese interior design.
After losing her home in the earthquake and tsunami of 2011, Misato-sensei found healing for her mind and body in the art of Ikkanbari, and is looking to share this beautiful, creative, relaxing art with others.
Misato-sensei looks forward to sharing her knowledge and passion for this beautiful Japanese tradition.
DETAILS
| | |
| --- | --- |
| DATE: | May 23, 2015 |
| TIME: | 11:00 am to 2:00 pm |
| PRICE: | ¥15,000.00 |
| TOTAL SEATS: | 10 |
| SEATS BOOKED: | 4 |
FREQUENTLY ASKED QUESTIONS
How do I book my seat in a class?
Once you are signed in to your FLUENCY1st.CLUB account, just hit fill in the form above and hit the button to begin the payment process. Once you make an online payment for the class with your credit card or your Paypal account, your booking will be confirmed.
Where is the class?
Once your booking has been confirmed by payment, you will receive an email from PayPal confirming your payment; three days before your class, you will receive an email providing you with detailed directions of how to get to your lesson, including a map and phone number for the instructor.
Can I cancel?
You have 24 hours to cancel from the time you pay to confirm your booking, provided your confirmation payment is more than 24 hours before the start of class. You will receive a full refund. After 24 hours from your confirmation payment or if your confirmation payment is within 24 hours of the start of class, cancellations and refunds are unfortunately not possible. For cancellations, please contact us at fluency1st@gmail.com.
See our FAQ Page for detailed information: