Traditional Japanese Baking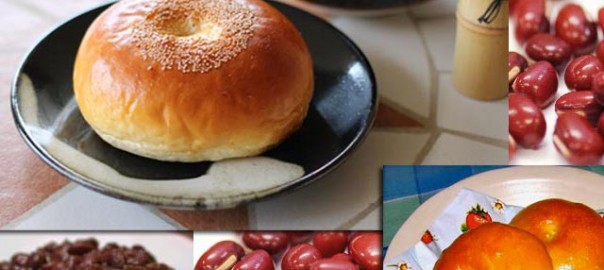 Monday, May 25 (2015) from 10:00 AM to 1:00 PM
Just a 3 minute walk from Hongoudai Station on the JR Negishi Line in Yokohama.
COMPLETE THIS FORM TO BOOK YOUR LESSON
Bookings are closed for this event.
ABOUT THE CLASS
Learn how to make the Japanese sweetbread "Anpan" (あんパン) – the most popular kind of sweetbread in Japan – completely from scratch, from an expert baker.
And learn by listening and speaking completely in Japanese.
Anpan was first sold in 1874 at KIMURAYA – a famous Japanese bakery shop in Ginza – and remains popular among Japanese people of all ages. Almost any bakery you can find in Japan still sells Anpan.
In this lesson we will go through the complete process of making Anpan, including both making the dough and a filling called "Anko" (あんこ) the healthiest way – completely from scratch.
After we're done, we'll all enjoy the freshly baked Anpan with green tea – and you can bring the rest home to enjoy with your friends and family!
Maximum SIX students per class.
Come on out and see how to bake the Japanese way – all completely in Japanese.
Ryoko-sensei has years of experience in gastronomy as a food coordinator, wine sommelier and cheese expert: her home bread-making and cooking classes are sure to show you how to get some magical results!
In charge of "natural yeast" bread-making classes at two different community centres in the Tokyo, Ryoko-sensei is both skilled and passionate about her craft.
Ryoko-sensei wants everyone to know the joy of making bread, and looks forward to making something delicious with you sometime soon.
DETAILS
| | |
| --- | --- |
| DATE: | May 25, 2015 |
| TIME: | 10:00 am to 1:00 pm |
| PRICE: | ¥6,000.00 |
| TOTAL SEATS: | 6 |
| SEATS BOOKED: | 4 |
FREQUENTLY ASKED QUESTIONS
How do I book my seat in a class?
Once you are signed in to your FLUENCY1st.CLUB account, just hit fill in the form above and hit the button to begin the payment process. Once you make an online payment for the class with your credit card or your Paypal account, your booking will be confirmed.
Where is the class?
Once your booking has been confirmed by payment, you will receive an email from PayPal confirming your payment; three days before your class, you will receive an email providing you with detailed directions of how to get to your lesson, including a map and phone number for the instructor.
Can I cancel?
You have 24 hours to cancel from the time you pay to confirm your booking, provided your confirmation payment is more than 24 hours before the start of class. You will receive a full refund. After 24 hours from your confirmation payment or if your confirmation payment is within 24 hours of the start of class, cancellations and refunds are unfortunately not possible. For cancellations, please contact us at fluency1st@gmail.com.
See our FAQ Page for detailed information: