Make Cute Character Bentos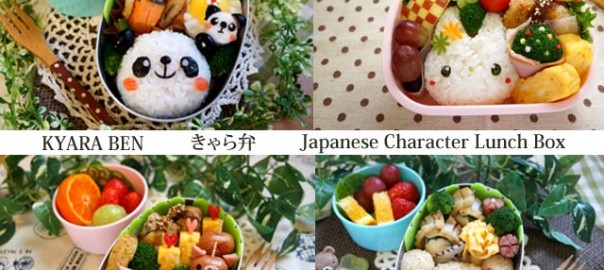 Tuesday, May 12 (2015) from 10:00 AM to 1:00 PM
Just a 15 minute walk from Otsuka – Teikyo-Daigaku Station on the Tama Monorail in Hachioji, West Tokyo.
COMPLETE THIS FORM TO BOOK YOUR LESSON
Bookings are closed for this event.
ABOUT THE CLASS
Learn how to make "Kyara-ben" (キャラ弁), the edible cartoon character bento lunches that have become all the rage for children in Japan.
And learn by listening and speaking completely in Japanese.
Mari-sensei teaches how you to make animals such as bears, rabbits and pandas — as well as popular cartoon characters — out of "Onigiri", as well as how to put beautiful finishing touches on bento lunches with decorative "Okazu" (おかず), the Japanese side dishes in bento lunches.
Learn how to use colour and balance properly, and then make your own delicious Kyara-ben according to your own taste — using all the healthy ingredients supplied.
At the end of class, everyone can enjoy tasting the lovely Kyara-ben they have made!
Maximum SIX students.
Come on out and learn how to something cute and delicious – all in Japanese!
Mari-sensei has been perfecting her skills at "Kyara-ben" (キャラ弁) — bento lunches with edible cartoon characters made of rice and other healthy ingredients — since her five-year-old daughter was two.
Kyara-ben, which combines abbreviation the Japanese for "character" (キャラ: kyara) and bento (弁: ben), has in recent years become quite a trend among mothers in Japan; Mari-sensei's classes will teach you all the tricks and techniques involved in making the cutest lunches out of nourishing ingredients.
Learn how to make Kyara-ben for different seasons and events, cute Kyara-ben with popular cartoon characters, as well as cute "Okazu" (おかず), the Japanese side dishes in bento lunches.
At end of each lesson, everyone can sit down with some tea and try their cute and delicious Kyara-ben.
DETAILS
| | |
| --- | --- |
| DATE: | May 12, 2015 |
| TIME: | 10:00 am to 1:00 pm |
| PRICE: | ¥3,000.00 |
| TOTAL SEATS: | 6 |
| SEATS BOOKED: | 4 |
FREQUENTLY ASKED QUESTIONS
How do I book my seat in a class?
Once you are signed in to your FLUENCY1st.CLUB account, just hit fill in the form above and hit the button to begin the payment process. Once you make an online payment for the class with your credit card or your Paypal account, your booking will be confirmed.
Where is the class?
Once your booking has been confirmed by payment, you will receive an email from PayPal confirming your payment; three days before your class, you will receive an email providing you with detailed directions of how to get to your lesson, including a map and phone number for the instructor.
Can I cancel?
You have 24 hours to cancel from the time you pay to confirm your booking, provided your confirmation payment is more than 24 hours before the start of class. You will receive a full refund. After 24 hours from your confirmation payment or if your confirmation payment is within 24 hours of the start of class, cancellations and refunds are unfortunately not possible. For cancellations, please contact us at fluency1st@gmail.com.
See our FAQ Page for detailed information: