Yoshihide & Keiko Iwasaki-sensei
No Events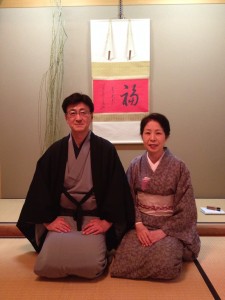 Mr. and Mrs. Iwasaki are both experts at instructing Japanese Tea Ceremony, called "Sadou" (茶道, literally "the Way of Tea") in Japanese, specializing in the Urasenke (裏千家) Branch of Sadou.
In fact, they first met at a class for Sadou, where Mr. Iwasaki was a student and Mrs. Iwasaki was an assistant instructor. Mr. Iwasaki presently has twenty-five years experience with Sadou, while Mrs. Iwasaki – Vice-chairperson of local branch of the Urasenke Association – has forty years experience.
They presently hold classes at two different classrooms in the Tokyo area, with courses such as as "Introduction to the Way of Tea" and "The Way of Tea for Beginners".
They look forward to teaching you the true culture of Sadou: the way Japanese students learn, for a true look into the heart of Japan.
No Events
SCHEDULED CLASSES
ARRANGE YOUR OWN CLASS
Organize your group of two to six people for a class with this teacher, or attend solo for a slightly higher price.
Japanese Cooking Prices

| | |
| --- | --- |
| TWO OR MORE PEOPLE | ¥5000 per person |
| ONE PERSON | ¥8000 |
Japanese Culture Prices

| | |
| --- | --- |
| Japanese Calligraphy | ¥6600 (max 4 people) |
| Tea Ceremony | ¥5000 (max 3 people) |
| Flower Arrangement | ¥5500 (max 8 people) |
| Japanese Lacquering | ¥14000 (min 2 - max 10 people) |
Fill in the form below and click send, and we will set it all up for you!