Yoko Shinohara-sensei
Japanese Calligraphy "Shodo"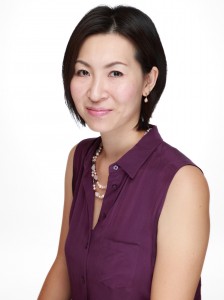 With roots going back some 5000 years, Japanese Calligraphy – called SHODO (書道, literally "the Way of Writing) – is the most traditional of Japanese arts. A mandatory subject in elementary schools, calligraphy in Japan is thought of on the same level as music or painting.
Shinohara-sensei has studied and practiced SHODO for over 30 years. It's become something can't imagine living without, and her passion means she wants to share this art with as many people as possible.
Her moto is "Make SHODO Fun!"
"No matter how digitalized our society becomes, there will always be place for handwriting," she says. "You can better communicate how you feel through the way you write the characters!"
It's with that in mind that Shinohara-sensei continues to hone her craft every day.
Come learn how to write beautiful Japanese characters with our fun and dedicated teacher!
THE CLASS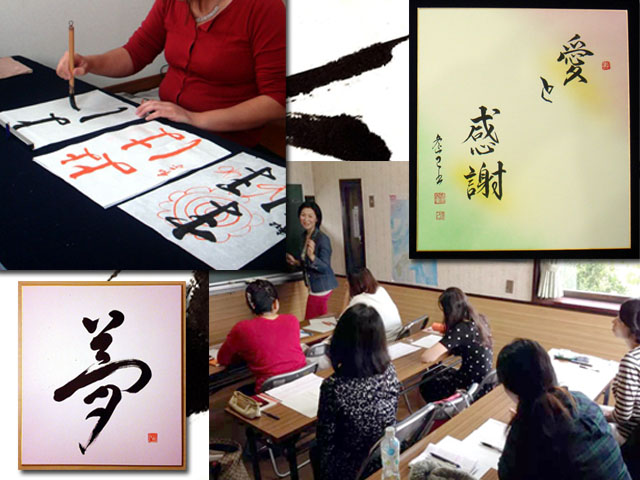 In the art of SHODO (書道), you use an ink-dipped brush (筆, FUDE) to artistically to create Japanese characters, such as Kanji, hiragana and katakana, on WASHI (和紙, Japanese paper) or other objects.
You'll not only learn things like the proper way to hold the brush – including the correct grip and angle – but also many other details of how to properly write characters, such as shading and balance of the characters.
But Shinohara-sensei's classroom is not just a place to learn how to write Japanese.
While Kanji is used in several other Asian countries, hiragana and katakana are used only in Japan – she will explain how hiragana and katakana developed, so that from those roots you can understand the proper forms of the characters, and for the first time be able to write beautiful characters.
Your final project will be writing characters on a beautiful Japanese fan (扇子, SENSU) like this: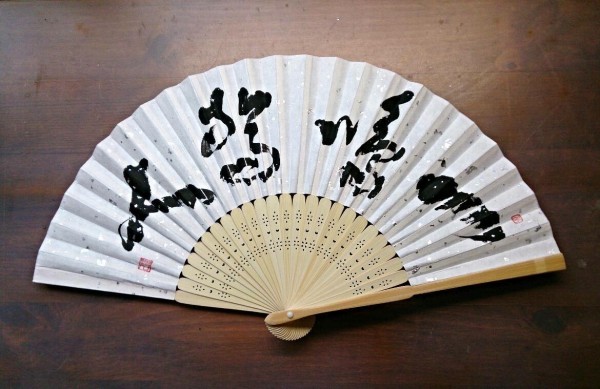 Maximum FOUR students per class. Please book at least TWO WEEKS in advance. All supplies and materials included in the price.
Come on out for a fun time learning this most traditional of Japanese arts – all completely in Japanese.
SCHEDULED CLASSES
ARRANGE YOUR OWN CLASS
Organize your group of two to six people for a class with this teacher, or attend solo for a slightly higher price.
Japanese Cooking Prices

| | |
| --- | --- |
| TWO OR MORE PEOPLE | ¥5000 per person |
| ONE PERSON | ¥8000 |
Japanese Culture Prices

| | |
| --- | --- |
| Japanese Calligraphy | ¥6600 (max 4 people) |
| Tea Ceremony | ¥5000 (max 3 people) |
| Flower Arrangement | ¥5500 (max 8 people) |
| Japanese Lacquering | ¥14000 (min 2 - max 10 people) |
Fill in the form below and click send, and we will set it all up for you!