Kazue Endo-sensei
Japanese Healthy Cooking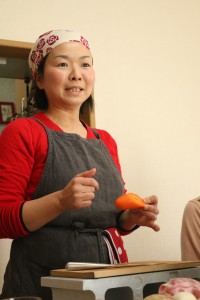 Kazue-sensei, a mother of two who has been practicing the world famous Japanese macrobiotic cooking for eight years, presently runs special classes for parents and children to experience macrobiotic food preparation together.
Japanese macrobiotic cooking emphasizes locally grown whole grains, beans, vegetables, seaweed, fermented soy products and fruit, combined into meals according to the ancient Chinese principle of balance known as yin and yang.
"Yin vegetables" grow towards the ground, and work to heat and stimulate the body; while "Yang vegetables" grow towards the sun, working to cool and relax the body.
Combining these foods properly is not only delicious, but promotes proper balance in the body and mind.
The classes that Kazue-sensei holds look to allow people to become more familiar with Japanese macrobiotic cooking, and teach them to make these delicious foods on their own at home.
Join her to experience the most natural, balanced and healthy way of cooking through the four seasons.
THE CLASS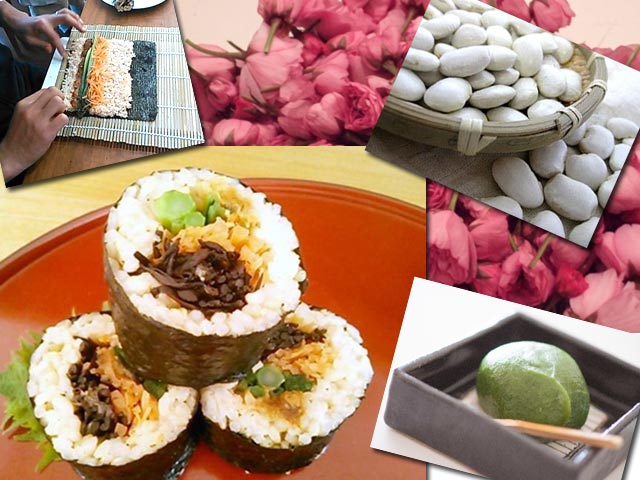 Let Kazue-sensei teach you all about super-healthy Japanese macrobiotic cooking, including "Kasaneni" (重ね煮) – a special technique where vegetables are layered and boiled for delicious effect, even without spices.
All completely while speaking and listening in Japanese!
Japanese macrobiotic cooking emphasizes vegetables, whole grains, seasonal foods, and the balancing of energies intrinsic to different foods — a philosophy that keeps our minds and bodies in tune with our environment, so we can find balance and harmony.
In this lesson we will make a lovely spring meal: super-healthy, vegetable-packed maki sushi, made with unprocessed rice; delicious "Kasaneni" miso soup, with incredible umami; and the special May version of "O dango" (お団子), made green with the special Japanese herb "yomogi", filled with handmade "anko", and garnished with salted sakura petals.
Get ready for a healthy spring, and join Kazue-sensei's class!
SCHEDULED CLASSES
ARRANGE YOUR OWN CLASS
Organize your group of two to six people for a class with this teacher, or attend solo for a slightly higher price.
Japanese Cooking Prices

| | |
| --- | --- |
| TWO OR MORE PEOPLE | ¥5000 per person |
| ONE PERSON | ¥8000 |
Japanese Culture Prices

| | |
| --- | --- |
| Japanese Calligraphy | ¥6600 (max 4 people) |
| Tea Ceremony | ¥5000 (max 3 people) |
| Flower Arrangement | ¥5500 (max 8 people) |
| Japanese Lacquering | ¥14000 (min 2 - max 10 people) |
Fill in the form below and click send, and we will set it all up for you!