Aya Yamada-sensei
Real Japanese Home Cooking
Aya-sensei, whose popular "Japanese Cooking How-to's" column can be found on Facebook, is a freelance nutritionist working out of Katsushika-ku, Tokyo.
She specializes in old-fashioned Japanese home cooking: made with raw ingredients from scratch – the kind of cooking that's been done in Japanese homes for hundreds of years, without the refined or packaged ingredients commonly found in modern Japanese kitchens and restaurants.
Learn how Japanese households have made their meals in harmony with the seasons since before the Meiji Restoration.
Also, enjoy the local foods and traditions of Katsushika-ku – an area steeped in history just across the Edo River from Old Tokyo – such as "Bon Odori" (盆踊り, Japanese dance festival) and "Matsuri Hayashi" (祭り囃子, traditional Japanese music festival).
See Aya-sensei's specific classes for details.
THE CLASS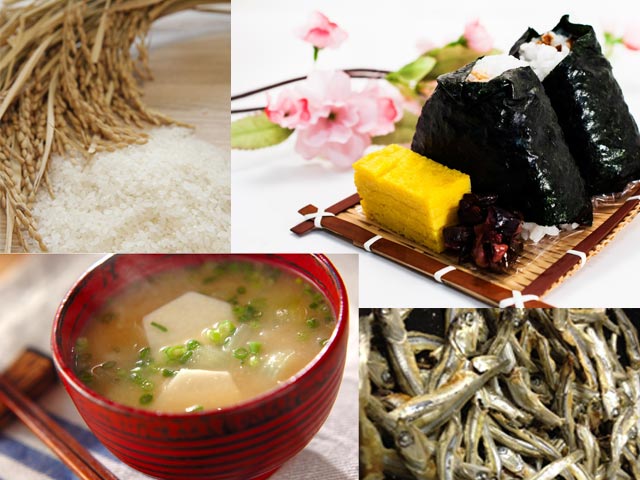 Learn how to make Japanese home cooking the traditional way, like Japanese families used to for hundreds of years: completely from scratch, with none of the processed, instant or refined ingredients found in the modern Japanese kitchen.
And learn by listening and speaking completely in Japanese.
In this lesson, we will start with raw brown rice (called "Genmai", 玄米), go through the polishing process, and then make "Onigiri" – the unique Japanese riceball Japanese families have made this way for a thousand years.
We'll also make eggs in traditional Japanese style: four-cornered "Tamago-yaki".
We'll also learn the easy way of making "Dashi" (ダシ) – the umami-rich Japanese soup stock – completely from scratch, the way Japanese housewives have always made it until the last fifty years.
Finally we'll make miso soup from the "Dashi" – the final touch to a delicious meal of old-school Japanese home-cooking.
All tools and ingredients are included in the class fee. Maximum FOUR students. Please book at least TWO WEEKS in advance.
Come on our and learn how to make what's delicious and traditional – all in Japanese!
SCHEDULED CLASSES
ARRANGE YOUR OWN CLASS
Organize your group of two to six people for a class with this teacher, or attend solo for a slightly higher price.
Japanese Cooking Prices

| | |
| --- | --- |
| TWO OR MORE PEOPLE | ¥5000 per person |
| ONE PERSON | ¥8000 |
Japanese Culture Prices

| | |
| --- | --- |
| Japanese Calligraphy | ¥6600 (max 4 people) |
| Tea Ceremony | ¥5000 (max 3 people) |
| Flower Arrangement | ¥5500 (max 8 people) |
| Japanese Lacquering | ¥14000 (min 2 - max 10 people) |
Fill in the form below and click send, and we will set it all up for you!